Introducing Branded Web Monitoring
When you set up your organization, we will immediately deploy a website dedicated to monitoring all the equipment that is registered in your organization and is being actively monitored.
Branding
The monitoring website will carry your branding, including:
Logo throughout sign in screens and in all navigation.
Color Schemes.
Monitoring
Each client that you sold equipment to, when it is being monitored, will have free access to the website to view all relevant information about the equipment while in operation:
See dashboards summarizing the state of all equipment under monitoring.
View all locations where equipment is installed at (e.g. different supermarkets that have installed refrigeration equipment you manufacture).
View all equipment installed at each location.
See at a glance if alarms are being triggered for each location, in both maps and lists (e.g. a supermarket is showing 3 high priority locations in the past hour).
See at a glance if alarms are being triggered for each equipment  (e.g. a refrigerator is showing two temperature alarms being triggered in the last hour).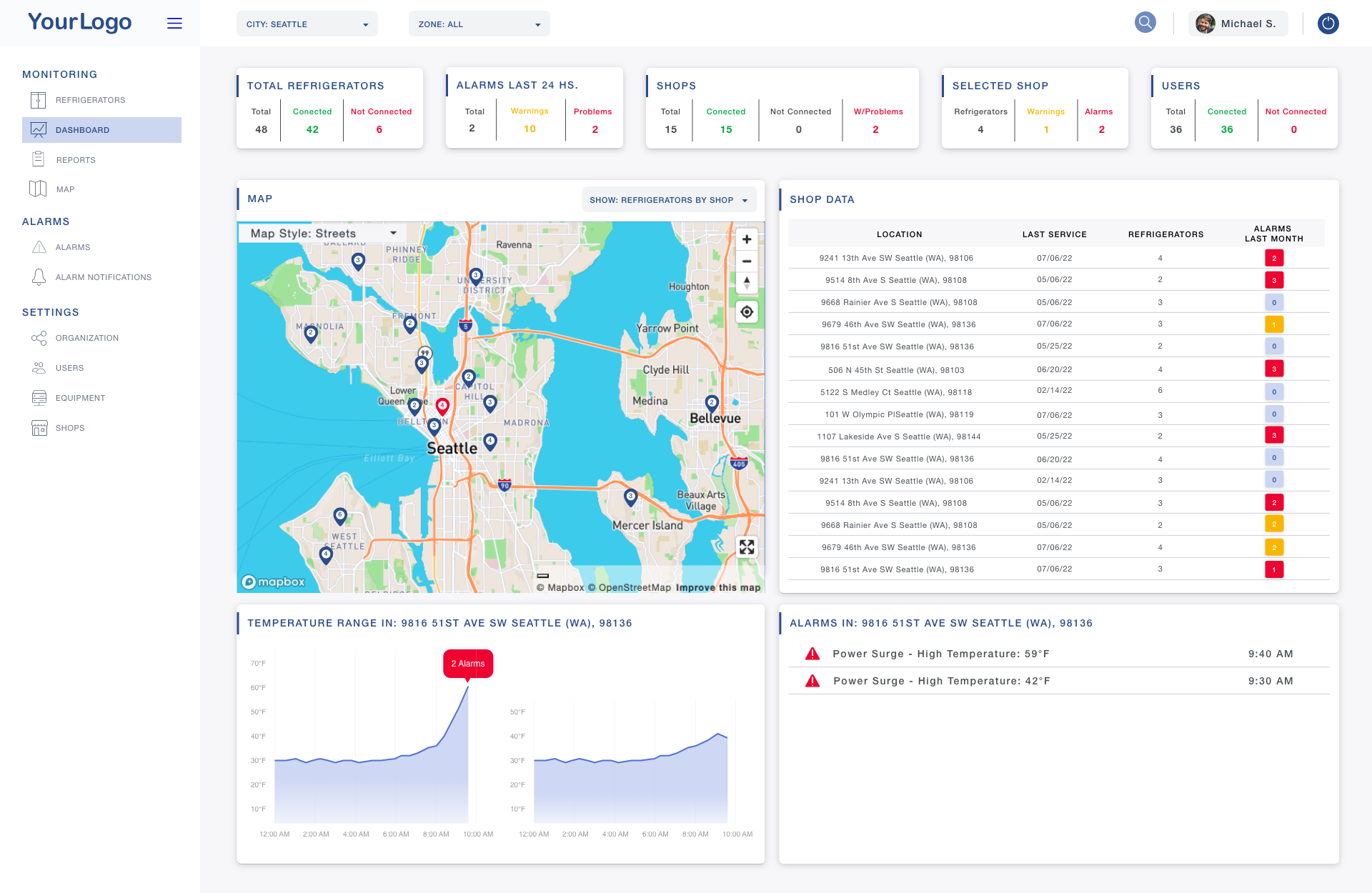 User Access
You can invite both client administrators and and client users to access this tool:
Client Administrators may in turn invite other administrators and users.
Client Administrators may also modify some of their own company information.
Alarms
Alarms include all relevant information about a particular event that is relevant to you and your operation, this information includes:
Timestamp when it was fired.
Which equipment triggered it.
What was the variable that triggered it and with which value (e.g. temperature above 32F)
You and your clients can configure which alarms you want to be notified about.
Reports
Reports summarizing operational data will be produced periodically, these reports can be accessed in the web at all times.